'It is not that we use technology, we live technology' – Godfrey Reggio
Technology in the very basic sense is the strongest pillar of human development which facilitates problem solving. Problems can never be completely eliminated from the world because if we solve one, many more will arise. Our intuitive need to solve the problems has resulted in the advent of technology in almost all aspects of our life. This makes technology that pillar of human development which if removed can cause the entire world to fall. Continued technological advancement has become an essential part of our life; the technology is thriving and almost never-ending.
The significance of such innovation lies in providing unmanned, unbreakable security, without compromising the feature set. One such field that demands uncompromising security is the BFSI (Banking, financial services and Insurance) sector. Over the past couple decades, banks and other financial institutions have had to step up their game. In order to remain competitive in an increasingly saturated market – especially with the widespread adoption of virtual banking these firms have had to find a way to deliver the best possible user experience to their customers.
Being a critical aspect of the economy, technological development in the banking sector becomes a sensitive affair since any loophole may lead to loss of property – intellectual as well as monetary. Such a sensitive sector requires reliable and accurate process design and delivery. Additional features require hardware and software updates or at times, completely new components. Bio-metric scanning is one such component. With considerable improvements in this technology, their usage has increased excessively, be it for mobile phones, laptops, or ATMs.
Therefore, it becomes increasingly imperative to incorporate new technology to sustain and improve operational efficiency and to enhance and maintain customer satisfaction.
Robotics are shaping the future of the industry for financial reasons as well as customer demand. Robots are already an essential component of the banking industry whether you see them or not. They operate on smartphones to create a more efficient mobile banking experience. More obviously, they take customers straight into a sci-fi novel and even provide in-person service at branches.
New and emerging technology, such as robotic process automation, cognitive computing and the Internet of Things (IoT) are profoundly impacting and transforming the workforce of the future across the financial sector and will continue to do so. Robotics Process Automation (RPA) is providing digital speed to market and cost take outs for financial institutions, but the successful financial institutions of tomorrow will be those who embrace the next wave of robotics technology and future technology to drive business outcome.
What is Robotic Process Automation?
The desire to achieve optimal results with available resources and the need to go increasingly digital has caused the companies to strengthen the autonomy of the workers through technology based advances. Similar to many other industries, the financial field is heavily reliant upon documents and the many legacy systems that have been employed to help manage them most effectively. There are a great deal of records involved in the life cycle of a banking customer, from the initial application to account management documents to deposits, withdrawals, loan documents and a whole myriad of other day-to-day transactions that inevitably generate documents. The volume of documentation required for financial transactions can also lead to slower processing times. In many instances, a process could be stuck in limbo for days, weeks or even longer as it awaits approval. And with humans at the helm, errors are inevitable – some of which could prove incredibly costly to the institution, both financially as well as with respect to reputation. By automating these back office functions, these delays and errors can be all but eliminated, creating a more productive, efficient and accurate process. Robotic Process Automation (RPA) is fast emerging as a highly efficient way to help financial institutions support their digital transformation initiatives. RPA is at the forefront of human-computer technology and provides players in the financial services industry with a virtual workforce that is ruled based and is set up to connect with your company's systems in the same way as your existing users.
If you think of artificial intelligence (AI) as a robot's brain, then you could call Robotic Process Automation (RPA) the eyes and hands. RPA allows for efficient, repeated processes and data collection while AI can interpret that data and change behaviors as a result. In banking, these systems can help with reviewing financial documents and cut down on human error. With robotics, you automate and build an automation platform for you front office, back office and support functions. Best of all, you don't need to wait months or even years to see the results. In an industry that is constantly looking to improve the consumer banking experience, mitigate risk and comply with regulations, and increase great efficiencies around core customer oriented processes, the use of intelligent software robots is already being put to use across many banks.                              For e.g.,
Bank of NY Mellon Corp. is investing heavily in this technology, rolling out more than 200 bots to handle tasks such as transferring funds. As a result, BNY Mellon reported an 88 percentage improvement in processing time and its funds transfer bot saved the company $300,000 alone.
Bank of America coming up with its own chat-bot, Erica. A user can interact with Erica both through text and through voice; one of the primary differences between this and other chat-bots we might have seen is that the bot interacts with you first.
Until RPA was introduced as a solution for the financial industry, banking professionals struggled to connect the many legacy systems being used in order to manage and retrieve the information needed to do their jobs most effectively. And given the massive number of mergers and acquisitions in the financial world, this problem wasn't going away. One of the greatest benefits of RPA, however, has been the ability this technology provides to integrate with and bridge these legacy systems, creating a much more uniform approach to data management without having to start from scratch. It's been nothing short of revolutionary.
Beyond this, robotic process automation has also dramatically streamlined a wide variety of back office processes that once bogged down bank workers. By shifting a majority of these tedious, manual tasks from human to machine, banks have been able to significantly reduce the need for human involvement, which has had a direct impact on everything from performance and efficiency levels to staffing issues and expenses.
Robotic process automation checklist
To identify processes that are suitable for robotic process automation you can use this check list:
The process should be rule based and not depend on human judgement
The process should be initiated by a digital trigger and be supported by digital data
The process should be functioning and stable
The bigger the volume of executions of the process the better
For a proof of Concept project it is key that the process leverages the key systems of the company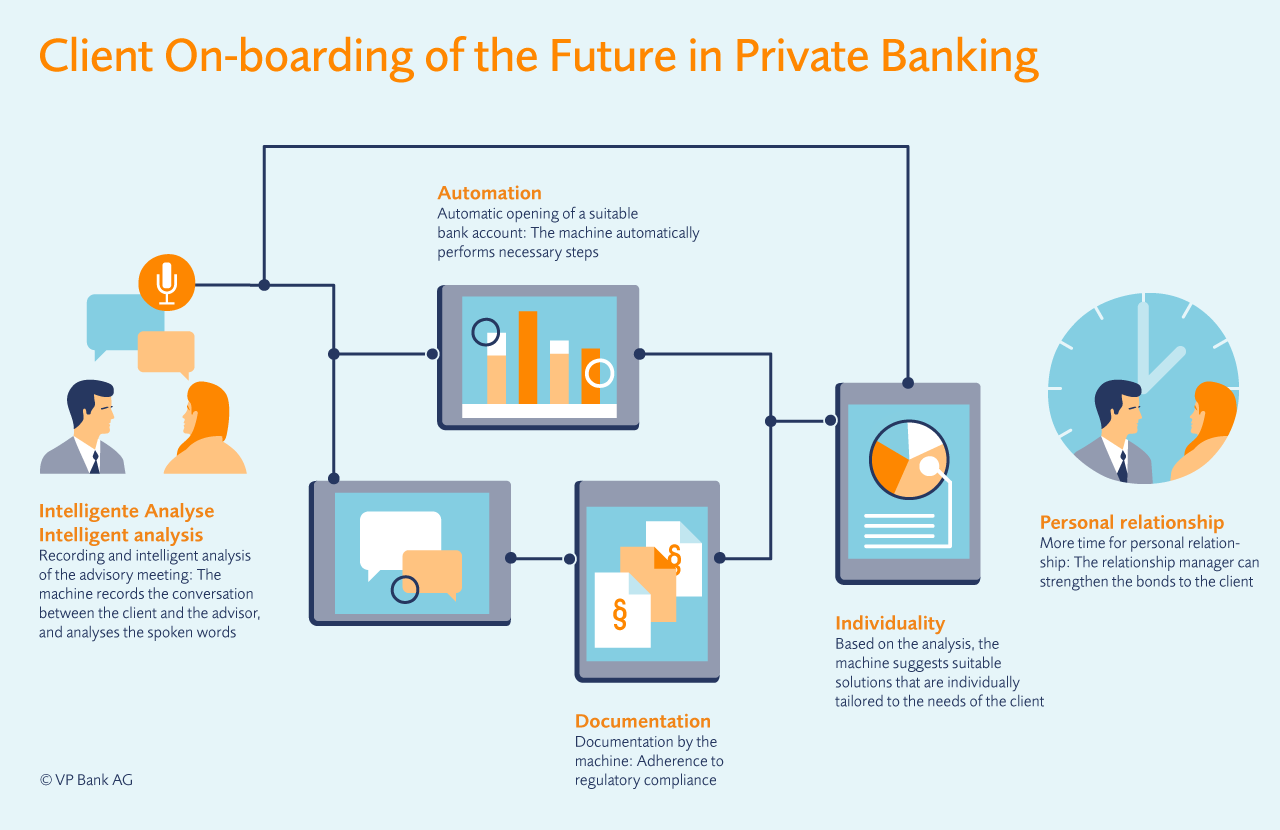 Processes relevant for Robotic Process Automation: Banking institutes can automate the following process with robotics:
Risk and compliance reporting:
This process needs number of different applications to be accessed so as to provide the required data for reporting. Use of RPA has automated 90% of these processes, saving significant costs and time
Anti-Money laundering (AML) and know your customer (KYC):
Both the processes are rule based data intensive processes and thus forms good candidate for application of RPA
Several accounting and reporting processes involve repetitive daily activity that requires capturing data from multiple systems; these are well-suited for rule-based RPA
Given the number of third-party entities in the mortgage value chain, the significant use of paper (any proud owner of a mortgage can relate to this!) and the fragmented nature of the systems means RPA can play a key role in providing efficiencies while the industry undertakes a wider transformation
RPA with predictive algorithms to reduce exceptions and automate the resolution process
Front-office and contact centre staff often need to access multiple applications to work with customers. RPA can be used to bring all relevant information from multiple systems to one screen for support staff to provide effective service
RPA can be used in areas like cards & payments and asset & wealth management
The Benefits of robotics are:
Cost Saver: Automating the processes using robotics can lead up to 80% cost reduction
Higher Quality: Increased quality by reducing human errors
Time Saver: Automation basically aims at reducing time and effort
Integration: Runs on top of existing IT infrastructure and requires no IT transformation projects
Scalable solutions: Scalable solutions that fits into your current set up
In conclusion, today's banking firms are facing increasing demands to maintain as lean an operation as possible while also delivering exceptional client experience at the lowest possible cost. Robotic process automation is making it possible for financial institutions to achieve these goals and remain competitive in a sometimes                                                                turbulent, ever-changing environment.
'You are either the one that creates the automation or you are getting automated'-
                                                                                                                   Tom Preston Werner
References:
https://www.accenture.com/in-en/insight-financial-services-robotic-process-automation
https://www.thecognizant.com/blog/rpa-in-banking-here-is-where-its-most-beneficial/